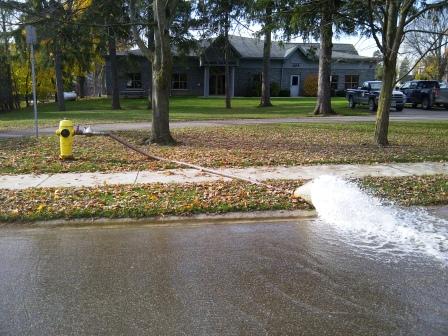 Flushing watermains is a necessary maintenance procedure that will reduce the number of incidences of discoloured water within the municipal water distribution system. This program involves flushing potable water at a high velocity through the watermains in sequence to ensure that all piping is refreshed and that minor sediment within the pipe is removed.
Why are the watermains being flushed?
Watermains are flushed to improve water quality by removing any sediment that may accumulate in the distribution pipes.
How are watermains flushed?
Municipal watermains are flushed in sequence by using fire hydrants and blow-off valves as flush-out points.
When does watermain flushing occur?
Flushing of municipal watermains will occur on Wednesdays, typically twice a year, once in the spring and once in the fall.
Will I have low water pressure?
During watermain flushing on your street you may experience a slight drop in water pressure. However, water pressure will not drop below the minimum standards. Also, it is not recommended that household taps be used during flushing on your street. By using water at the time of flushing, unwanted sediment may be drawn into your household waterlines, filters, tanks etc.
My water is discoloured.
Customers may experience discoloured water during this maintenance operation. The risk of receiving discoloured water is possible at anytime during the program. If necessary, you may continue to use your water at all times during this flushing program. However, if you notice that your water is starting to discolour, you should discontinue use, wait approximately one hour, and then allow a cold water tap to run until water returns to its normal appearance.
Where does the flushed water go?
Flushed water will be discharged from street hydrants and blow-off valves into street catch basins. A product is used to remove the chlorine from the water before it is released into the storm sewer system.
Is watermain flushing a common practice in other municipalities?
Flushing of watermains is a widely used method and is considered to be the best way to improve water quality within the drinking water distribution system.