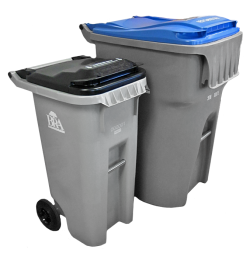 The Township of Perth East provides curbside waste and recycling pickup, operates and maintains one landfill site, provides household hazardous waste events, offers recycling locations for used tires, scrap wood, scrap metal and electronic waste (e-waste).
The automated curbside collection of waste and recyclable materials are contracted out to Bluewater Recycling Association (BRA) collection occures on a bi-weekly basis. BRA manages its curbside collection schedule, and are responsible any collection related inquires including changing the number or size of the waste and recycling bins, the holiday schedules, and acceptable materials for recycling. To contact BRA directly please call 1-800-265-9799 or visit their website for more information.
Solid Waste Management
Long-Term Waste Management Plan
The Township of Perth East retained the services of GM BluePlan Engineering to undertake a comprehensive study of the Townships current and future management of solid waste. The findings of the study, and proposed recommendations are presented within the Long-Term Waste Management Plan which is available for viewing at the Perth East municipal office.